Nihon-shu brings out the flavor of cheese. Here's a story of BAR/Pigalle Fromage Club about how to enjoy nihon-shu in France.
2021.03.09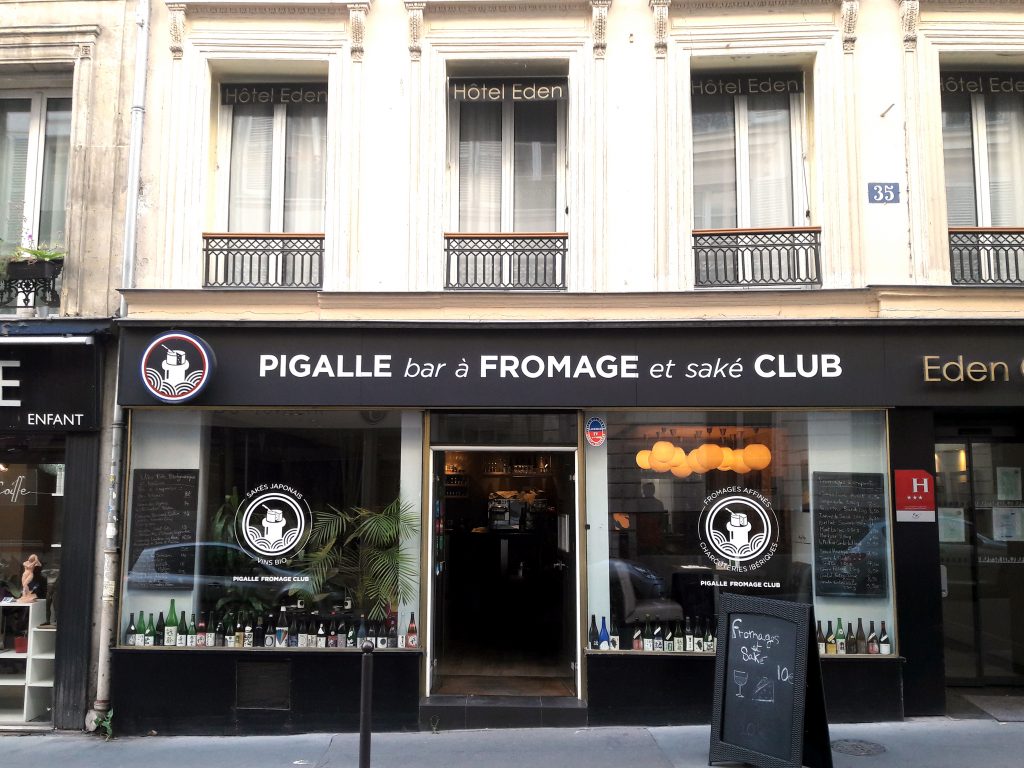 –Do your customers know something about Hiroshima and Hiroshima's nihon-shu?
They know the tragedy of atomic-bombed Hiroshima, and the famous Miyajima. But most don't know Hiroshima produces delicious nihon-shu.
–How did you get to know Hiroshima's nihon-shu?
There are very good distributors in Paris who offered them to me.
–How do your customers who drink nihon-shu for the first time react?
Most of our customers have heard of nihon-shu before, but they don't necessarily know what it really is. They regard it as a very strong digestif served in a small glass at Chinese restaurants after meals. However, those who had negative preconceptions about it, saying something like, "It's too strong", "We are not interested in it", or "Sorry, I've got to work tomorrow", tend to end up hooked on once they tasted it. The curious people order the combo of three tasting nihon-shu, or share different brands with others. I believe the most efficient way for nihon-shu to be recognized worldwide is to serve those people the combo of three tasting nihon-shu with cheese. Then, they will notice the taste differences. It seems that trying several pairings is a fun experience for them.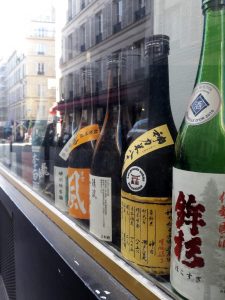 –What food would you recommend to accompany nihon-shu?
I always recommend our wide variety of cheese! I serve nihon-shu with two kinds of cheese to make a good pair. For instance, young hard cheese is good with refreshing nihon-shu while the aged cheese goes well with heavy one. Nihon-shu has certain rules for pairing as wines do. It's a lot of fun to find them. One of the advantages of nihon-shu is that it tastes gentle on the palates. It brings out the flavor of cheese more without hiding it.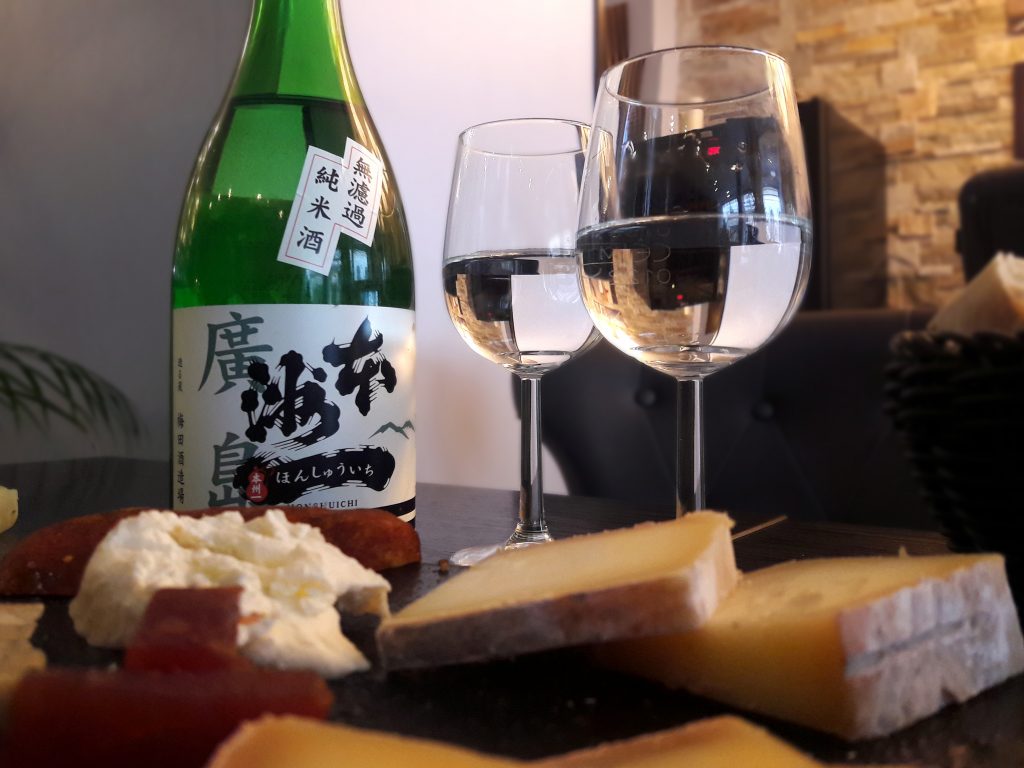 –What made you decide to sell nihon-shu?
Well, my love for nihon-shu did. I love both nihon-shu and wine. Each of them offers you a different world. That's why it's fun. Although I had a chance to taste it 20 years ago, I started drinking it regularly only two years ago. I have been drinking even more since the opening of Pigalle Fromage Club a year and a half ago. So I've been able to taste a lot of special nihon-shu, and to find a new pairing with cheese each time. Definitely, I'd like to introduce nihon-shu to many more people. Nihon-shu is a natural beverage which attracts people. Nowadays, natural wines with no-added preservative are more popular. It proves that nihon-shu tends to be favored.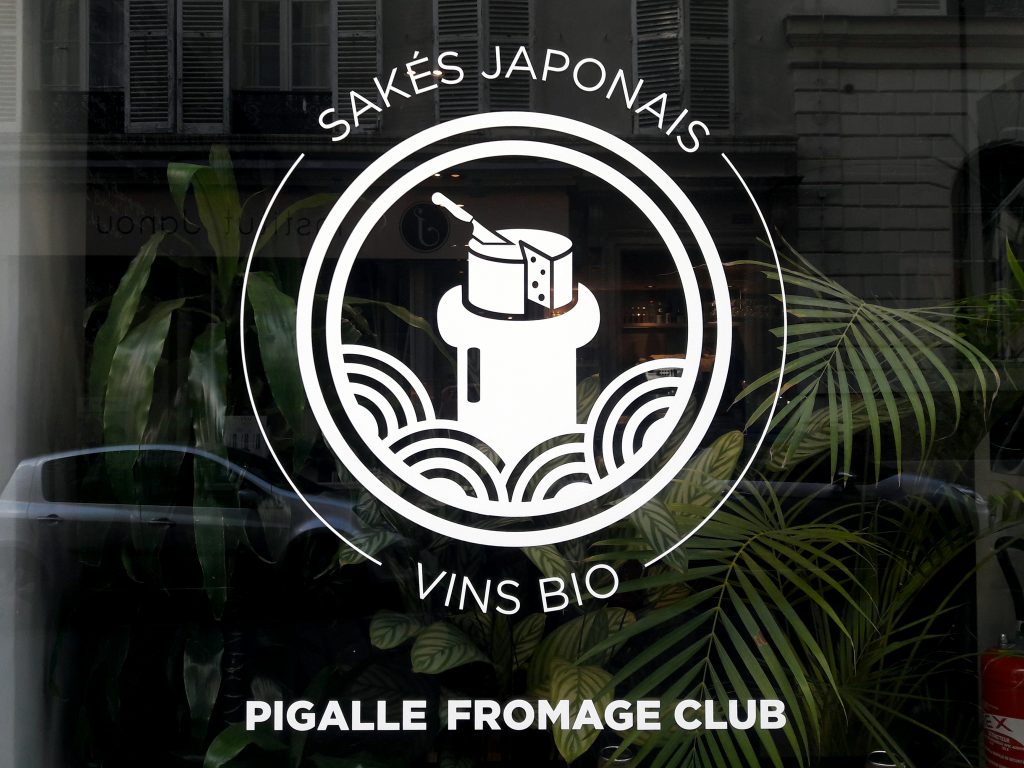 –How did you get to know nihon-shu?
I used to live in Japan, and I was offered nihon-shu there. I had another chance to drink it while living in Brazil which had a big Japanese community.
Personally, I'm fond of rather popular nihon-shu (He took out a nihon-shu bottle and served it to us at the scene). This is very aromatic and fruity. It will be evaluated immediately even by people who have never drunk nihon-shu before. Japanese tend to recommend very light, pure nihon-shu. It's not easy for French to feel its delicate profiles. They need something more dramatic. There are some watery types of nihon-shu that people enjoy its mouthfeel. But, this is not the one like that. Moreover, it's majestic. It attracts the wine lovers as well. Alsace wine lovers may like this kind of nihon-shu which has certain richness.
–Why do you think French like nihon-shu?
I think they like it because it's easy drinking at first, and it's not as strong as they imagined. One or two glasses of nihon-shu don't make them drunk easily. The most noticeable thing is that it pairs very well with the cheese we serve. They feel the flavor of nihon-shu as the tastes mingle. And then, they will know what nihon-shu really is.
The recognition of nihon-shu in France is a new world. Not only Parisians, but also people of major cities such as Bordeaux, Lyon, or Marseille have started to consume it. The progress is really interesting.
The tasting events with Japanese producers as guests are often held, contributing the promotion of nihon-shu in France. The events are definitely necessary. The only way to end the negative aspects about nihon-shu is to have people taste it. The selection of nihon-shu available in France is getting larger and larger.
Our club has certain days to serve only nihon-shu. Some visitors have already known that we serve nihon-shu, and some are tempted to order it for tasting after seeing it on the menu.
I suggest the customers refrain from drinking nihon-shu after meals if they have already had a bottle of wine. It would be better to start with nihon-shu. It's important to propose, to explain, and to educate.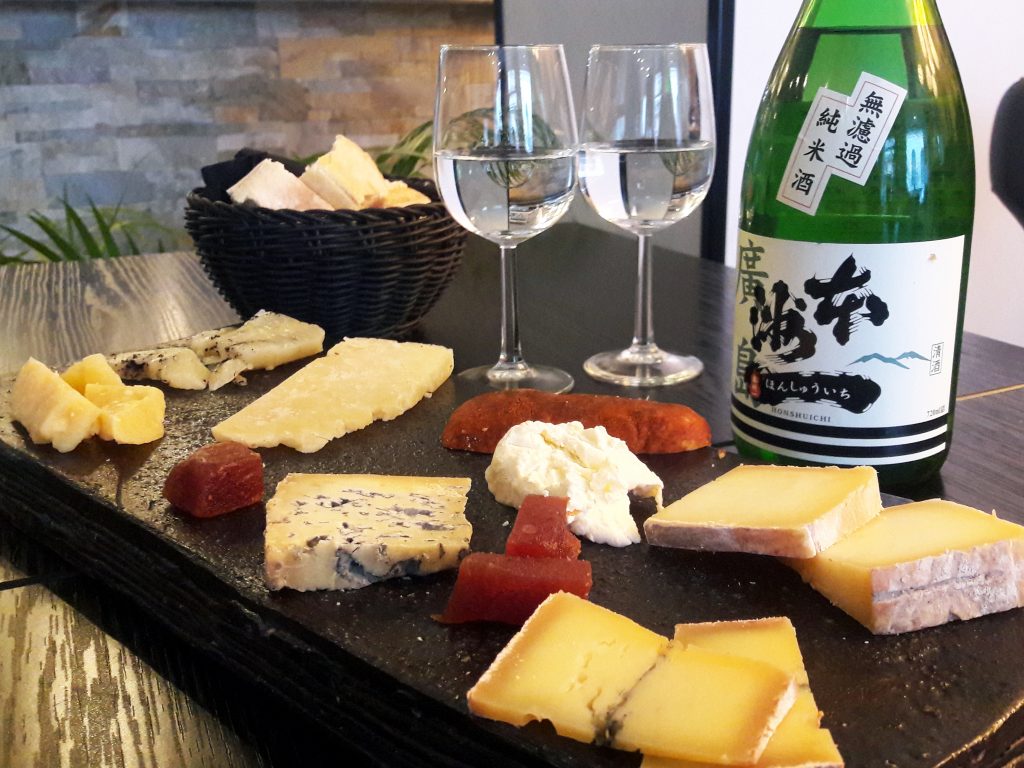 –Which Hiroshima's nihon-shu would you prefer, and recommend to your customers?
Honshu Ichi of Umeda Shuzo Brewery.
It's very popular. It appeals very much to neophytes but also to connoisseurs.
–Do the returning customers have any favorite nihon-shu? Do they ask for the specific or usual one?
No, most are not specialists. Some know exactly what they want to drink, but it's rare. On the other hand, it's interesting that after tasting three types of nihon-shu, most can tell which type they prefer. Tasting is a good way for them to discover their preferences.
It has been two years since the opening at the end of September 2020. We have organized around ten tasting events. We are selling more and more bottled nihon-shu for to-go. You can also order on our website and have your bottles delivered or picked up at the store. Some people who only come here to dine end up leaving with a bottle.
We started selling take-away bottles a very short time ago and we actually sell more bottles of nihon-shu than those of wine. When people visit our site for cheese, they also take the opportunity to grab a bottle of nihon-shu to go with it. Recently, take-away has been working better than eating on the spot. We don't have a patio and currently there isn't a lot of demand to eat inside, so we're trying to develop our take-away business further. It's a good way to promote our concept.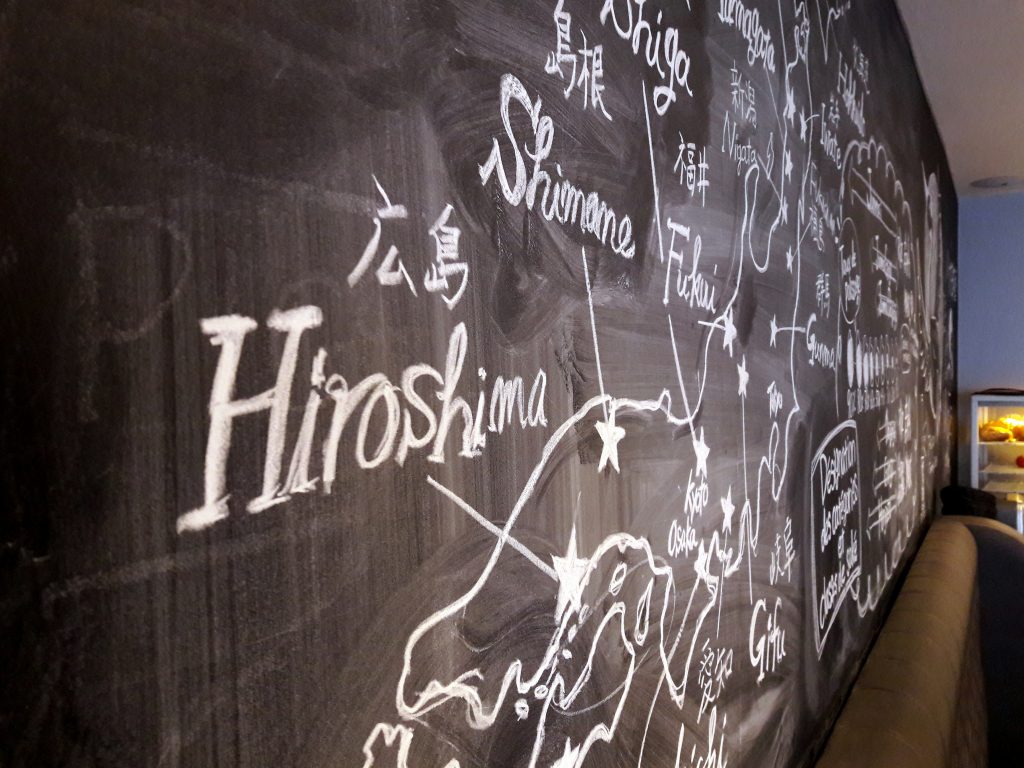 –Even the people who highly evaluate nihon-shu don't know where to get it. It's great to have you here!
Thank you. We offer nihon-shu at prices only slightly higher than those charged by Japanese grocery stores. The eat-in prices and take-away prices are different. But our cheese is sold at the same price as at the cheese stores.
We are appreciated by our neighborhood. People can come at 9 p.m. to buy our products. It doesn't earn us much, but we don't sell at a loss either. Our store works like a small grocery store. In a way, it allows us to make ourselves known.
<hr>
Pigalle Fromage Club
35 Rue Jean-Baptiste Pigalle, 75009 Paris France
https://www.fromageclub.fr/
https://www.instagram.com/pigallefromageclub/
https://www.facebook.com/pigallefromageclub/
Open hours;
Friday to Wednesday: 18:00 to 23:00
Thursday: 18:00 to 20:00