A Large Kuramoto With 4 Tojis Leading 4 Kuras The Unshakable Taste That Attracts Many Fans – Kamotsuru Shuzo Brewery
2021.03.15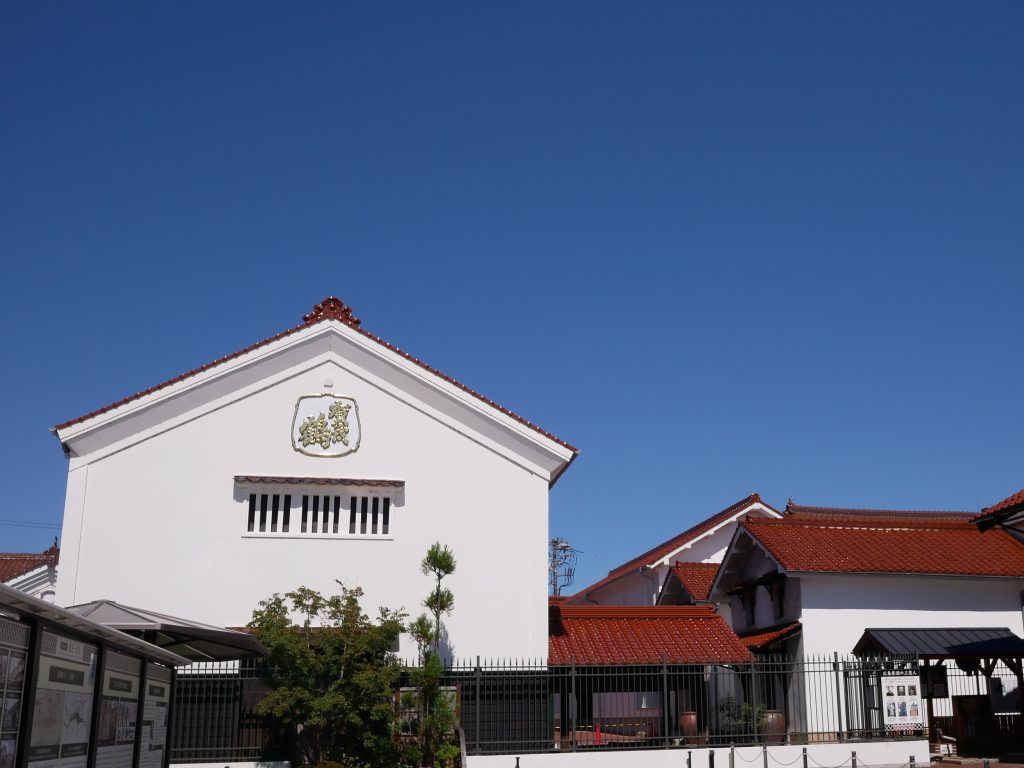 Nihon-shu was served at the sushi restaurant "Sukiyabashi Jiro" in Tokyo when the former U.S. President Obama visited Japan. That's Kamotsuru's "Daiginjo Tokusei Gold".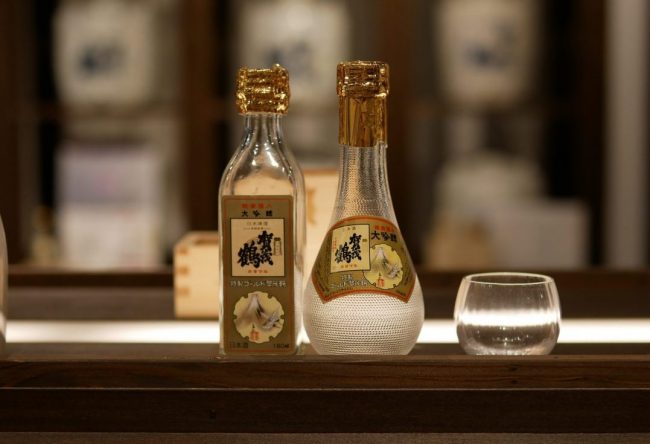 Daiginjo with cherry blossom petal-shaped gold leaf is the flagship brand of Kamotsuru.
Kamotsuru is a large-scaled brewery in terms of both the numbers of employees and facilities that boasts a national name among the breweries in Hiroshima. There are 4 kuras, and 4 tojis aged 41 to 56, including the executive toji Koji Tomoyasu, lead each kura.
Toji Koichiro Okinaga is responsible for Kura Number 8 that brews Gold Kamotsuru , toji Ryuta Ide for Kura Number 4 which has the latest refrigeration facility, young toji Shigeru Mukuda for Kura Number 2 that mainly produces junmai-shu, Head toji Tomoyasu for Kura Misono in Mizono district a little far from the head office. Prior to being in charge of the current kura, all four tojis gained experience in other kuras in the brewery and pursued brewing.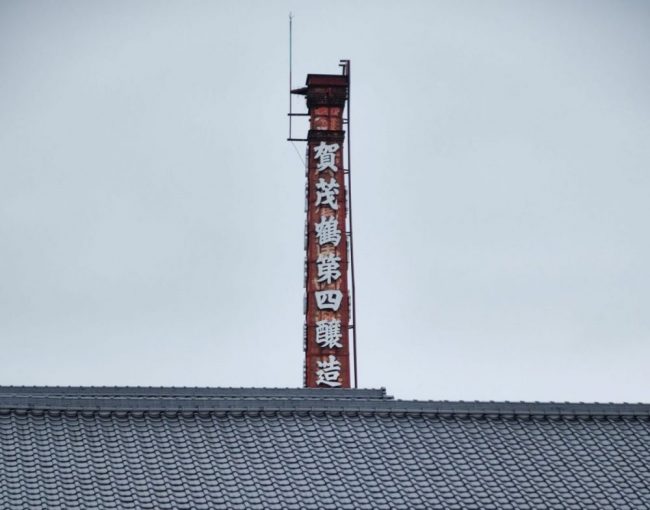 "Shi Toji Shiki Shu (which literally means four tojis and four seasons)", named after 4 tojis leading 4 kuras, is sold seasonally for a limited time.
Here's the lineup of seasonal sake brewed by each of 4 tojis with enthusiasms;
"Arabashiri", a daiginjo gen-shu shipped in late January is produced by toji Okinaga.
"Hiyashizake", a honjozo nama chozo shipped in early June is produced by toji Tomoyasu.
"Hiyaoroshi", a junmai-shu shipped in early September is produced by toji Mukuda.
"Shiboritate", a shipped in late October is produced by toji Ide.
It has been well accepted as a series that people can enjoy the deliciousness of nihon-shu in each season, such as the difference in taste depending on the time of brewing, and the difference in flavor matching to the season. In addition, each of 4 tojis designs the taste, and it can be said that it's a collaboration unique to a Kuramoto that has four kuras.
「四杜氏四季酒」シリーズ Shi Toji Shiki Shu
Pursuing Sharp Umakuchi (Super Delicious) Nihon-Shu, Not Too Sweet, Not Too Dry
All 4 tojis aim for the same goal of brewing in Kamotsuru.
The following is the phrase posted in the brewery as "Quality of Kamotsuru";
"The superior sake with all 4 aspects of sweetness, dryness, sharpness, and deliciousness brewed by the full use of Kamotsuru's distinctive secret ginjo-shu making method has tanrei color and luster, gracious aroma, density, yet light, smooth, moderately sweet and dry flavors that are not tiring for drinking. It's the sake made by dedicated brewers"
"Sake of moderation" described by the phrase, "not too sweet, not too dry" is the nihon-shu inherited by Kamotsuru's tojis from generation to generation.
The moderation is the reason why Kamotsuru has long-time fans. Kamotsuru has its own classic stability. Nihon-shu of Kamotsuru has long been loved owing to its effort of maintaining the quality that people can drink it with peace of mind.
On the other hand, however, it won't forget the spirit of innovation.
The youngest toji Mukuda of the Kura Number 2 is undergoing some challenging brewing projects. Releasing junmai-shu "Hiroshima Nishiki" in 2018, celebrating the 100th anniversary of the foundation of Kamotsuru Corporation, is one of the projects.
Dating back to the history of Kamaotsuru, it's trying to brew junmai-shu from revived phantom rice and kobo. "Hiroshima Nishiki" had the same suitability for brewing as "Yamada Nishiki", but disappeared in early Showa era due to the difficulty of cultivation. The brewery revived it to use as a raw ingredient, and it polishes the all amount of the rice in-house.
The kobo used is "Kamotsuru Kobo (Kyokai Kobo 5 )", which was from Kamoturu, and adopted as one of "Kyokai Kobo" in Taisho era (1912-1926) to be distributed to the breweries nationwide by the Brewing Society of Japan for high-quality brewing. The brewery re-selected and adopted the remaining stocks.
"Hiroshima Nishiki" has two types; Junmai daiginjo for liquor stores, and junmai-shu for restaurants. "Hiroshima Nishiki" junmai daiginjo won the gold prize in the junmai daiginjo category at "Kura Master Sake Competition" held in France in 2019.
※Kura Master(https://kuramaster.com/ja/)
Note; Kura Master is a sake competition which has been held in France for French since 2017
As a Brewery Representing Saijo, One of Japan's Top Three Brewing Regions
In Japan, Kamotsuru is known as a brewery representing shuto (sake town) Saijo (in Higashihiroshima City). It started exporting nihon-shu overseas 20 years ago.
It started shipping to both countries from 6 years ago to the U.S. and 4 years ago to France. Especially in France, it participated in nihon-shu exhibition and tasting event "Salone Du Sake", Hiroshima nihon-shu Seminar held by Le Cordon Bleu Paris, and Hiroshima Fair in Paris.
French people show their interests in not only the taste of nihon-shu, but also in the history and the raw ingredient rice. In that respect, there are a lot to tell about Saijo, one of Japan's top three brewing regions. The subsoil water from Kamo Mountains is soft water that contains an appropriate amount of minerals. It will help the brewery make soft sweet nihon-shu. Not only Kamotsuru, but also other breweries in Saijo are blessed with such an environment.
And Kamotsuru has a unique commitment to the raw ingredient rice. Kamotsuru's shuzo koteki-mai (rice suitable for brewing) is cultivates in the northern part of Hiroshima, situated higher than Saijo, where there is a large difference in the temperature of the day, and the clay loam soil which is most suitable for rice cultivation. The brewery polishes all the raw ingredient rice grown in Hiroshima in-house. And it has a kura, only for polishing, equipped with a polishing machine. Making a responsible choice of the raw ingredient rice shows how the brewery is dedicated to brewing.
In addition to tell the history and background of Saijo's nihon-shu, Kamatsuru wants to convey to France and other countries that the appeal of nihon-shu will increase further by tasting it with meals.
Kamotsuru's nihon-shu is served at well-established restaurants nationwide as well as worldwide, including "Sukibayashi Jiro" mentioned earlier and a Japanese cuisine restaurant "Kitaoka" in Higashi Ward, Hiroshima City. Both restaurants are famous and listed in the world restaurant rankings "Michelin Guide" and "La Liste". They choose trustworthy Kamotsuru's nihon-shu that compliments their dishes.
With the registration of Washoku (Japanese cuisine) as an Intangible Cultural Heritage of UNESCO, interest in nihon-shu is spreading worldwide along with the recognition of Washoku. Proposals and enlightenment for matching nihon-shu and food are important factors in future overseas expansion.
To Get Kamotsuru Known Is To Get Saijo Known
Kamotsuru's first kura, Kura Number 1, was renovated in 2019 as a facility for tours and direct sales.
Kura Number 1 is a building in the early Meiji era (1868-1912) designated as a registered tangible cultural property (structure). On display are, the large steaming vats, tanks, and the signboard with the characters of Kamotsuru on it used for promotion.(for prevention of co-vid 19 infection spread, free tasting as well as paid premium sake tasting are suspended currently).
It's a characteristic of Kamotsuru that it's capable of accepting overseas tourist groups. But the brewery has another aim for doing this.
The brewery believes that getting Kamotsuru known will lead to getting Saijo known.
Stepping out of Kamotsuru, 7 breweries in total can be sited on the street called Sakagura-dori. The scenery of the white walls, namako walls (covered with square tiles jointed with raised plasters), and towering red brick chimneys is one of the features and charms of Saijo, where breweries are concentrated in one area.
"Sake Festival" held in October every year is crowded with more 200,000 people who enjoy nihon-shu everywhere on the street. They can move from kura to kura to fully enjoy nihon-shu because multiple breweries are gathered together.
Communicating the history and culture of brewing is an opportunity to convey Saijo's nihon-shu and broaden the understanding of it. Such thoughts are contained in Kamotsuru's Kura Number 1.
---
Kamotsuru Shuzo Brewery
Founded in 1918
4-31 Saijo Honmachi, Higashihiroshima City
https://www.kamotsuru.jp/