The Pioneer of Junmai Brewing Exclusively with Rice and Rice Koji Junmai Jozo-Shu Regains the Attention by the Effort of Kamoizumi Shuzo Brewery
2021.03.15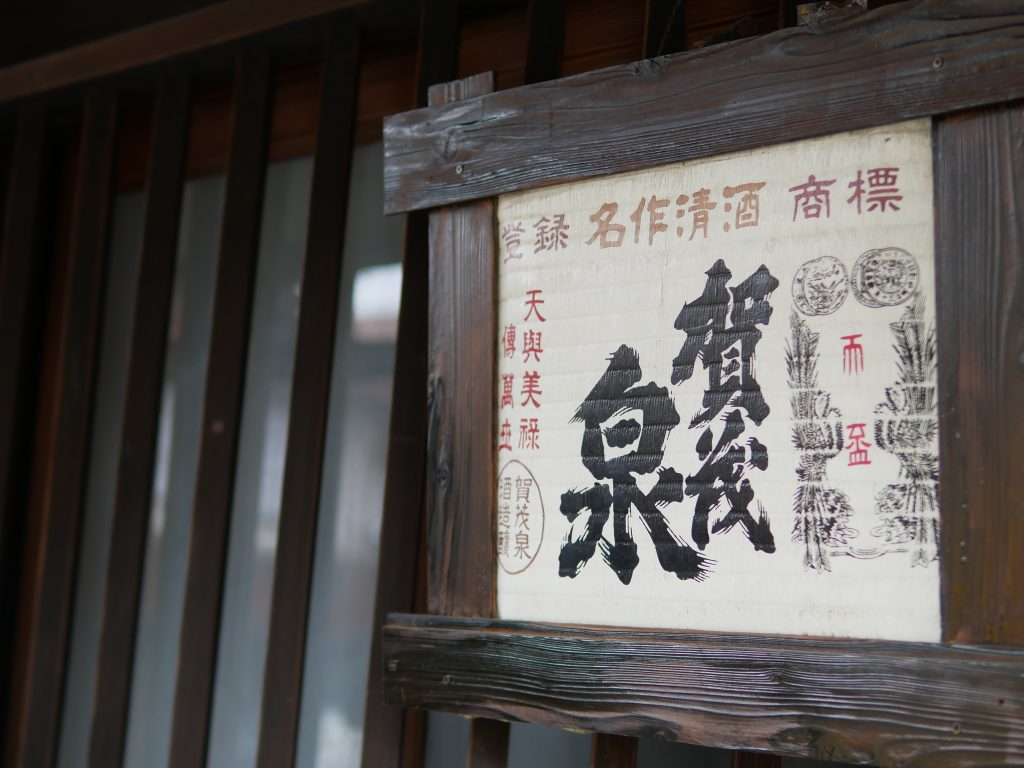 The junmai jozo-shu, brewed by Kamoizumi Shuzo Brewery located in Saijo, Higashihiroshima city, has a light gold color. That may be a surprise to those who have the idea that nihon-shu is colorless and transparent. The brewery's representing brand, "Shusen Honjikomi" junmai-ginjo has a slight color since it's filtered without using the activated carbon. Thus, you will feel the richness and well-rounded umami of rice from the first sip.
The brewery offers another junmai ginjo called "Yamabuki Iro no Sake".
It's a junmai ginjo-shu aged slowly in the thick clayey walled kura at room temperature for about two years. It retains a natural golden yellow color of junmai jozo-shu, and it tastes mellow with the impression of rice since it's not filtered with activated carbon.
The Pursuit of the Nature of Nihon-Shu by Kamoizumi Shuzo
Let us learn what the "nature of nihon-shu" really is.
Because of rice shortage and other reasons after the war, poor quality sanbaizojo-shu (which literally means, triple swelled sake) spread in Japan, resulting in the bad reputation of nihon-shu. It caused low sales of nihon-shu for a long time. Kamoizumi Shuzo Brewery has made every effort to regain the good reputation of nihon-shu in the belief that the nature of nihon-shu should be hand-brewed junmai jozo-shu exclusively made with only rice, rice koji, and water.
The all rice used at Kamoizumi is produced in Hiroshima. In particular, Yamada Nishiki is produced in the rice fields in Zoka district, in Takaya, Higashihiroshima City, situated at 350 meters (1,150 feet) above the sea level where the temperature varies during the day and night.
The infiltrated water which the brewery uses for brewing is drawn up from Ryuo-san (Mt. Ryuo) located a few kilometers away. The gushing subsoil water, created over 50 years, is medium hard water containing a moderate amount of minerals. It stimulates kobo (yeast) to ferment in a moderate way when it's used for brewing.
The breweries in Saijo area, including Kamoizumi, are blessed with the water from Ryuo-san which is used for brewing. That's how Saijo started to be called "Shuto (the City of Sake). The Saijo Brewers Association, of which Kamoizumi is also a member, believes that protecting the mountain leads to protecting the water. So, the members take care of the mountain maintenance, and garbage collection with participation of 50 to 100 citizens several times a year. Click here to learn more about their activities.
It's Humans' Tasks to Value the Homeland's Mountains and Water, and to Hand-brew Junmai Jozo-shu with Rice and Rice Koji
Kamoizumi's Nihon-shu Brewing
The toji Toshiyuki Shintani is in charge of brewing at Kamoizumi. There are seven kurabitos, having different tasks, such as making shubo or making koji.
Kamoizumi brews sake roughly between late October and mid-April. To prepare for the brewing period, they clean the brewery, maintain the equipment, and participate in the workshops during the summer while no brewing takes place.
Mr. Moysset Gautier of the sales division talks about charms of Kamoizumi's products.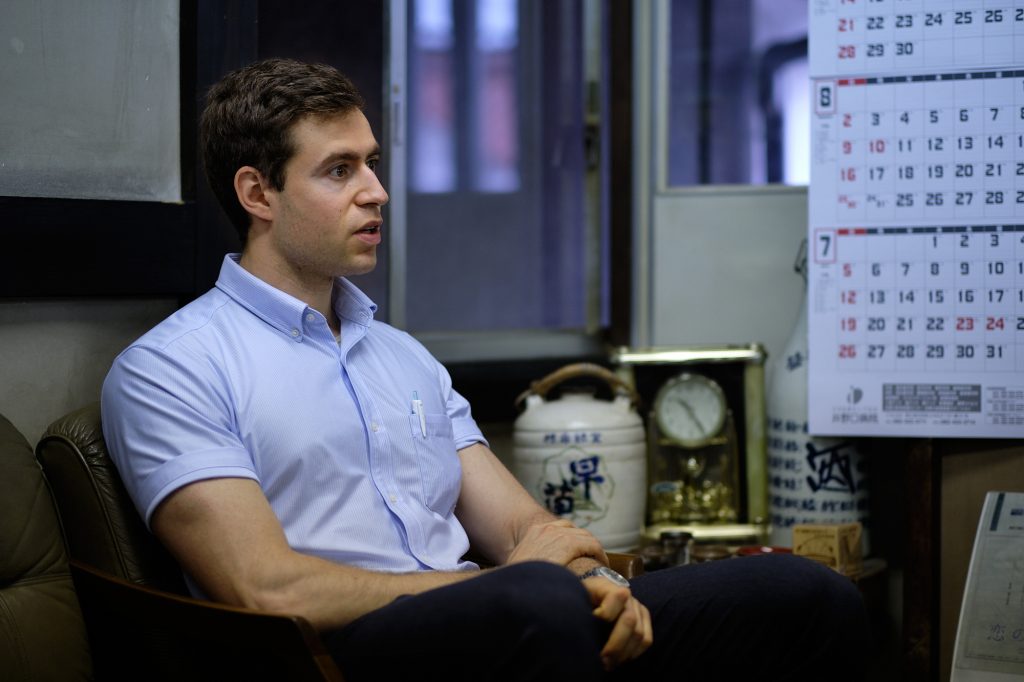 Mr. Gautier says he loves the roundness and deepness of aged nihon-shu with a full of umami derived from rice. He adds that the distinctive tastiness of Kamoizumi's nihon-shu makes it attractive.
Mr. Gautier especially loves to drink nuru-kan (warmed) "Shusen (Honjikomi)" among all the brands of his brewery. He explains, "It pairs well with the hamburger steak with demi-glace sauce over it, and greasy beef or pork dishes. It washes away the grease of the meat so that the dishes will be much tastier. The junmai-shu warmed at 40 to 45 ℃ will be gently absorbed in the body, and it won't give you any unpleasant feeling of drunkenness".
He says that drinking warm nihon-shu (nuru-kan) might replace eating the steamed rice. The rice and okazu (side dishes) are often eaten together since the rice is the staple food in Japan. The dishes that accompany nihon-shu are called "sakana" or "sake no ate". It shows that nihon-shu has been enjoyed during meals. Especially, junmai nuru-kan has a rich taste of rice which makes you feel as if you are having rice along with okazu.
From the U.S. to France: More Than 30 Years of Kamoizumi's Overseas Development
Kamoizumi started exporting the products over 30 years ago, to the west coast of the U.S. at first, then with Europe a decade ago. Now it exports to 14 regions including France, Sweden, Indonesia, the U.S west coast, China, and Hong Kong. Although there's no importer, it does business with Vietnam.
The brewery exports 30,000 bottles to the U.S annually. Among the products, "Nigori Ginjo Summer Snow" with 18 % alcohol content made from unprocessed junmai ginjo is exclusively produced for and exported to the U.S. It's very popular because of its silky texture and creamy taste that pair well with the meat dishes. Mr. Gautier told us the tip to fully enjoy it, "It obviously has a lot of vigor when drunk chilled, but it's really delicious when drunk warmed". In recent years, growing the market in France is the brewery's primary target. Nihon-shu is still relatively unknown there. It's often confused with the Chinese distilled alcohol known as "Pai Chu," so people are reluctant to taste it. And the lack of knowledge on nihon-shu is even greater in the suburbs than in Paris. That's why it's necessary to educate the sellers and consumers.
Kamoizumi participated in a number of tastings, fairs, and other promotional events in France after it joined the Hiroshima Prefectural Nihon-shu Branding Promotion Council.
The council members visited the starred restaurants in the suburban cities such as Bourgogne, Lyon and Nantes in 2019. The chefs were asked to taste nihon-shu of several breweries and create some dishes using the local ingredients.
The collaboration between Kamoizumi and the starred restaurant near Lyon was very successful. The dishes, based on the local seafood such as fresh-water fish and sea bass, were served to accompany Kamoizumi's junmai jozo-shu. Mr. Gautier recalls the event, "We believe it was a remarkable opportunity to shatter the image of strong alcohol associated with nihon-shu, and to inform the people that it's enjoyable at room temperature or chilled with dishes, in the same way as white wine."
Kamoizumi's junmai-shu "Zoka" earned a high reputation at the tasting event, "Salon de Sake" held in Paris by the Council the same year.
Junmai-shu is brewed with Yamada-Nishiki grown and harvested in the Kamoizumi's rice field in Zoka district of Higashihiroshima city. The rice has distinctively soft and fine sensation in the mouth. The rich umami can be enjoyed either chilled, at room temperature, or warmed (kan). It pairs well with a wide varieties of dishes, too.
"As compared to junmai ginjo "Shusen Honjikomi" which goes well with rather thick saucy dishes, the lighter refreshing junmai-shu "Zoka" pairs well with quiche and salami", says Mr. Gautier.
One of nihon-shu's attractive points is that it can accompany a wide variety of dishes. If more people are told the fact that it's an enjoyable alcoholic beverage during meals, just like wine, they will become familiar with it more easily.
Although nihon-shu is a distilled alcohol, it can be drunk deliciously for 2 weeks to a month after opened if it's refrigerated properly. That's a different characteristic from wines.
It might take more time before people are accustomed to drinking nion-shu like wine daily at home. It seems that the Council will promote it as a special alcoholic beverage drunk at party or given as a souvenir or gift.
The Desire to Share the Charms of Nihon-Shu
Mr. Gautier tells us about his ambition to raise the awareness of his and other breweries' nihon-shu charms: "What makes nihon-shu interesting is that two brands brewed with the same rice and kobo may have totally different tastes, depending on the water used for brewing, toji''s skills, the brewery's environment as well as the owner's intentions and the state of mind. The 11 breweries that are members of Hiroshima Prefectural Nihon-shu Branding Promotion Council, are all located in different areas – in the mountains, inland, by the sea – and each of their nihon-shu tastes different. For instance, the product of Yamaoka Shuzo Brewery, located in the mountains, is characterized by its strong and robust taste, while that of Morikawa Shuzo Brewery, located by the sea, is rather sweet and goes well with seafood. That's why it's more fun to find your favorite way of drinking it, to explore, to try something new as you learn more about it. I'd like to tell about the charms to as many people as possible."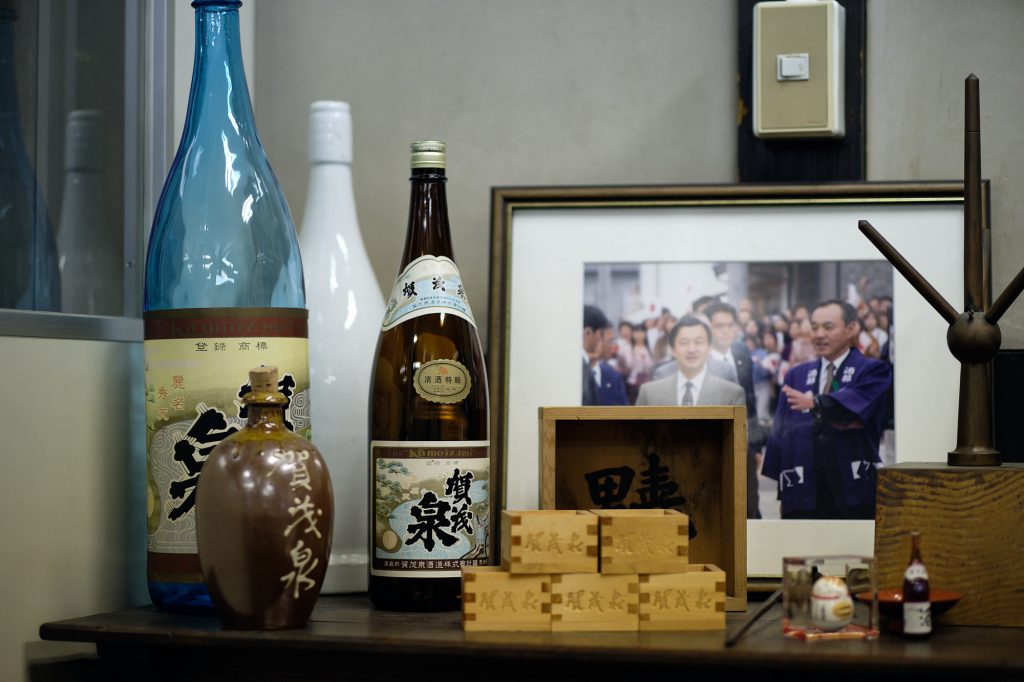 ---
Kamoizumi Shuzo Brewery
Founded in 1912
2-4 Saijo Kamiichi-Cho, Higashihiroshima City
https://www.kamoizumi.co.jp/