"Sempuku Junmai Daiginjo Kura" of the brewery Miyake Honten chosen for the jury award by wine sommeliers
2020.11.12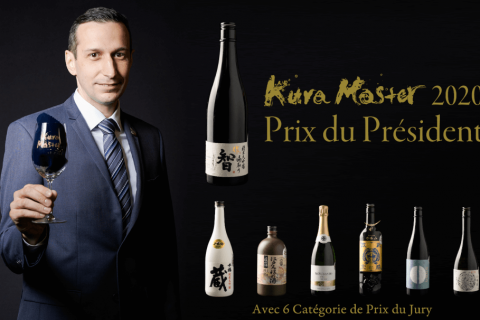 The award ceremony of Kura Master2020 was held on line at 11am on November 4th in France (7pm Japan time).
"The president award" and "Kura Master award" were announced. From Hiroshima prefecture, "Sempuku Junmai Daiginjo Kura "of the brewery Miyake Honten won the jury award.
The voice of president Miyake: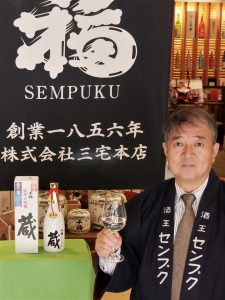 At first, I felt more surprised than glad. I won the platinum award unexpectedly, and I was already satisfied with being chosen as one of the TOP 5 (lol). Watching the ceremony on line, I shouted unconsciously, "Ohhhhhh!" at the moment of the announcement. I came to feel more grateful as my speech went on. Hiroshima native brewers make our sake using "Senbon Nishiki" developed in Hiroshima, the yeast "Hiroshima Momiji Kobo", and our company's own well water. Thinking it means that Hiroshima itself was highly evaluated, I was overwhelmed. I'll aim higher without being satisfied with the status quo. I'd like to thank everyone involved with us.
The tasting judges of Kura Master consist of top sommeliers including 4 with the title of MOF (the prestigious award in France). In this 4th year of the contest, 11 brands of Hiroshima out of 824 brands were nominated, leading Nakao Jozo Brewery and Umeda Shuzo-jo Brewery to win the platinum or gold award.